Major mainstream Turkish media representative Fatih Sabovic from Hurriyet Newspaper interviews Tarkan Batgun on the recent developments about the Wyscout Spor Toto Spor Toto 2-3 Football Development Project:
Wyscout Turkey area manager Tarkan Batgun "We are aiming that the presidents of lower league Turkish clubs come to Wyscout Forum in London on the 29 October 16. It is time that these leagues also open their eyes to the world of football through Wyscout events. Match tapes and DVDs have been long last friends to the teams. However, those times have been ended since the 21st centuries best invention 'Wyscout' opened arms to the industry in the mid-2000s. The world of football had to adapt and change into the internet world. Not only that, they needed to discover the mathematics of the game through Wyscout reports which have been a revolution itself. While teams are choosing players from Wyscout to transfer, teams also analyze one another through the platforms gadgetry"
It must have been a hard yakka attempt to convince Wyscout by Tarkan Batgun to invest in such scale project, more than 91 teams invading massive data space within Wyscout, however, most of the authorities said that it has been a massive revolution, not only Turkish football but football in Europe. The reason for that is that there are many European origin footballers with the name of Ahmet's and Mehmets appearing in these lower leagues perhaps with not a word of Turkish. However, there has been the number of interesting appearances from all around Europe, starting live scouting activities all around. Clubs received a sincere amount of calls from scouts coming from Europe for accreditation.
We asked again 'Sherlock Holmes of Scouting' in order to find out about this unique project in different aspects: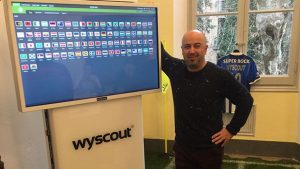 "HOW CAN YOU DISCOVER A PLAYER WITHOUT A FOOTAGE"
Tarkan, lets directly get into the subject. 78 Million Turkey, very little export. Why?
"Why we can export because of Turkish Super League players and even TFF 1. Players are far too expensive unless you are star-like Arda Turan, no one can really effort the players. The mining source is the lower leagues. To this date, we could not see them. But now, we mirrored all players not only to Turkish teams but to the world. "
" HUNDREDS OF GAMES NOW ON WYSCOUT, WYSCOUT HAS BEEN THE FACE OF TURKISH FOOTBALLERS TO THE WORLD" 
Tarkan What made you think of such scale hard work? 
"Last summer myself and famous Lig Radio commentator Yetkin Etkin decided to make a specific radio program to be able to investigate the transfer rumours, and the actual transfers took place in the Turkish Super League and TFF 1. League by watching the players and utilizing the tools existed within Wyscout to be able to judge players whether they are coming from overseas or within the domestic leagues. Obviously, we were giving credit to Wyscout for allowing us to use the platform. Then we noticed one player going from Karagumruk to German Bundesliga, Serdar Dursun and again lower league stopper from Altinordu to Germany, now National team player Caglar Soyuncu. This was the first possible transfers from the lower leagues. Then we had the urge to investigate the upper leagues from Wyscout platform to see transfer activity. Once we saw that 62% of the upper leagues have actually been formed from the lower leagues. This was a turning point to convince Wyscout. It was a rather difficult, but massive thanks to for allowing such scale project handling. It was not easy to manage such amount of teams. Almost 2/3 of the teams becoming members of Wyscout within a month. Especially once we started realizing the importance to these leagues from Karagumruk president – also the executive committee member from Spor Toto 2-3 League. His guidance has been extremely useful. He gave us a massive shoulder to succeed. I personally spoke with 91 presidents, being on the road since 5th October has not been easy, but we are happy. Also thanks a lot to Matteo Campodonico for his support and contribution to Turkish Football"
"FROM NOW THE DESTINY OF A TALENTED PLAYER DOES NOT DEPEND ON THE DESTINY TO BE NOTICED. THANKS TO WYSCOUT TO LIGHT UP THE DARKNESS OF THE LOWER LEAGUES"
– "Firstly all the national team scouts will open their eyes to earn new players to the national jersey's. The players now are all aware that 'Big Brother' is watching. Everybody happened to know what is going on in these leagues. It has already reflected on their performance. They are in full capacity to be noticed. Wyscout will be tagging and analyzing the games for a period of one month. Then each player in the league will receive Wyscout player access in order for them to watch their own analyzed match footage. The times now to be able to provide self-feedback. This type of technology does not even exist in the upper leagues. So tell me what more we can do? "
"WHEN I CAME TO TURKEY FROM AUSTRALIA IN 2010, PEOPLE LAUGHED AT ME. NOW I AM LAUGHING"
What were the difficulties when you arrived in Australia? How did Wyscout assist you to achieve your goals?
"I think the worse days were the first days. I remember people laughing from behind, who is this crazy guy with a hat. It wasn't easy back then. But I realize the power of Wyscout, and they believed in me and embraced me as part of their family. That's why Wyscout has been the greatest company to work with. It does not feel that I work for an entity, it feels like I am a player and I owned the business, rather I play in a team where each employee of the company works like a football player, love talking football. We speak about the ball. Nothing else.. How good is that. Anyways, I would like to thank to support of Wyscout CEO Matteo Campodonico, Carlo Reggiani, Ilaria Corso, Nicola Borean, Dalila Lorefice (who just had a lovely baby), Giovanni Larosa, Alessandro Cogozzo and all the Wyscout team. I am who I am because of them. Because they believe in me, and support me all the time. Well when you think Turkey had almost no understanding of scouting, now everyone talks about it. That's because of the family values of Wyscout. Indeed the whole football world needs to thank Wyscout family for their contribution to the worldwide football industry"